Register with Short Breaks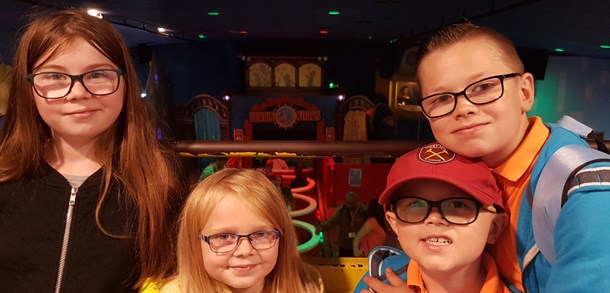 Short Breaks gives families the chance to take a break from their normal routines and enjoy doing fun things together.
They also give children and young people the chance to do fun and different activities. This can help build their confidence and independence.
Does my child qualify?
Short Breaks are for children and young people who:
are aged between 0 and 18, or 19 to 25 and have a personal budget
have a diagnosis of special educational needs and/or a disability
live within the administrative boundaries of Essex County Council (excluding Southend and Thurrock)

please note children and young people fostered in Essex, but still looked after by another Local Authority, would not be eligible for a Short Breaks passport id number.  They can still access any of the short breaks clubs, but their Local Authority would need to fund this through their care plan and pay the provider directly for sessions attended.
What's on offer?
How we define a disability
The Equality Act 2010 defines disabled as someone who has a physical or mental impairment that has a 'substantial' and 'long-term' negative effect on their ability to do normal daily activities.
This would include:
Sensory Impairments
Learning disabilities
Communication difficulties
Physical impairment
Chronic or life limiting condition
Complex health care needs
Where there is no formal diagnosis, we will consider registering your child if they have:
an Education, Health and Care Plan (EHCP)
written confirmation from a medical professional of a 'substantial' or 'long-term' negative effect on their ability to do normal daily activities
Will my child's complex needs stop them from having a Short Break?
We do our best to make sure your child's needs are met. Our Short Breaks  carers have been trained by specialist nurses so they can carry out many of the additional health care tasks your child may need.
Occupational therapists make sure our caravans are suitable for all children and young people. They can supply additional equipment such as hoists and commodes.
Does it cost anything to use Short Breaks?
You will need to pay for all leisure activities. You will also be asked for a parental contribution to attend Short Breaks activities and clubs.
You will not have to pay for additional support to help your child take part.
You will not have to pay for care that's been assessed and referred from the Children with Disabilities Social Care Team.
You will not have to pay for Light Touch Care.
Short Breaks brochure
Local authorities are required to produce a Short Breaks Services Statement so that families know what services are available, the eligibility criteria for these services and how the range of services is designed to meet the needs of the families with disabled children in the area. The requirements of the Short Breaks Statement are incorporated in the Short Breaks brochure and will be reviewed on an annual basis.
We publish a Short Breaks brochure (PDF, 14.7MB) every year that contains extra information about Short Breaks services.  
Apply for Short Breaks
You must register with us to qualify for Short Breaks
 "Thank you for making my family happy." - Parent